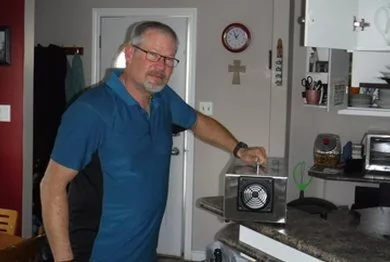 Ozone Shock Treatments are a very safe and effective way of eliminating challenging odors, pets, smoke and food are just a few. The Ozone Shock Treatment can be used in your home, office, vehicle, RV…etc.
I am a Certified Ozone Shock Technician
Get Rid Of Persistent Odors At Your Home
With Odor Control Done By A Certified Ozone Shock Technician
Residential properties can get infested with persistent odors for a variety of reasons. This is especially true for smaller properties or homes with a lot of residents.
However, those are not valid reasons to keep living and breathing in a foul smell. In many cases, where the cause of odor is a spill or a similar mishap, homeowners try to clean their homes and the stains wash off, but the odor remains. In other cases, homeowners are unable to locate the source of the odor.
Whatever the case may be, DD Healthy Homes is here for your needs of Odor Control in Beaumont, AB. Ozone Shock treatments are a scientifically proven way of getting rid of persistent odors.
An Ozone Shock generator creates lethal levels of ozone gas in an enclosed space (like a odor ridden home). A typical Ozone Shock Treatment may last several hours, as multiple shocks may be required, each timed at an hour after the previous one.
As effective as an Ozone Shock is, working with an Ozone Shock Generator can be dangerous without the proper know-how. That's why, you should only trust DD Healthy Homes for odor control in Beaumont, AB.
Get in touch with us for a free, no-obligation quote for odor control in your Beaumont home.
D&D Healthy Homes LTD. offers Mold Inspection Services across Beaumont , Edmonton , Sherwood Park , St. Albert , Spruce Grove , Stony Plain , Fort Saskatchewan , Gibbons , Legal , Red Water , Nisku , Leduc , Camrose , West Cove , Wabamun , Devon , Calmar , New Sarepta
Our Services Include:
Contact D&D Healthy Homes LTD. - Licensed Home Inspector in Beaumont, AB